Barangaroo Ngangamay
Augmented Reality
Amanda Jane Reynolds

Stella Stories
Keywords:
augmented reality, Indigenous, Aboriginal Australian, Art, Digital Media, Barangaroo
Abstract
The name Barangaroo has become common parlance among Sydneysiders and visitors who regularly enjoy the spectacular Barangaroo Reserve and the new retail and dining precinct. But what of the proud Cammeraygal woman Barangaroo, after whom this culturally-significant area is named?
This strong and influential warrior woman provided the inspiration for Barangaroo's first Artistic Associates, renowned Aboriginal multi-media artists and curators Amanda Jane Reynolds and Genevieve Grieves.
Reynolds and Grieves were appointed as the inaugural Artistic Associates by the Barangaroo Delivery Authority to collaborate on a multi-disciplinary program that celebrates the history and culture of the local area and its peoples.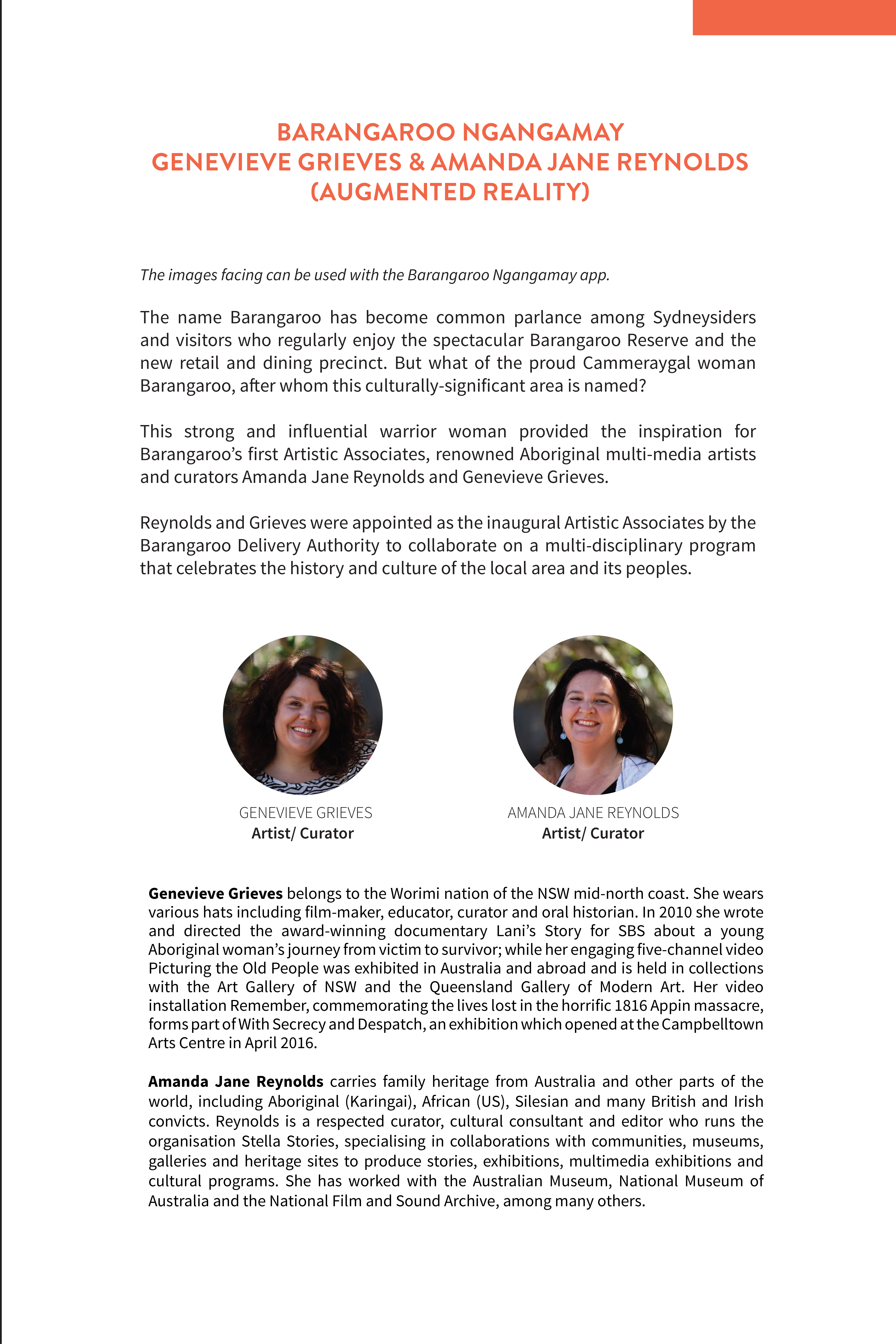 How to Cite
Reynolds, Amanda. 2018. "Barangaroo Ngangamay: Augmented Reality". In Decolonising the Digital: Technology As Cultural Practice, 132-45. Sydney: Tactical Space Lab. http://ojs.decolonising.digital/index.php/decolonising_digital/article/view/BarangarooNgangamay.
Section
Showcases and Interviews
The journal is published and distributed as an open access eBook with physical copies available Print-on-Demand (PoD). The book is released under the Budapest Open Access model, published under Creative Commons attribution license:
By "open access" to this literature, we mean its free availability on the public internet, permitting any users to read, download, copy, distribute, print, search, or link to the full texts of these articles, crawl them for indexing, pass them as data to software, or use them for any other lawful purpose, without financial, legal, or technical barriers other than those inseparable from gaining access to the internet itself. The only constraint on reproduction and distribution, and the only role for copyright in this domain, should be to give authors control over the integrity of their work and the right to be properly acknowledged and cited.
(from the "Budapest Open Access Initiative" model documentation)